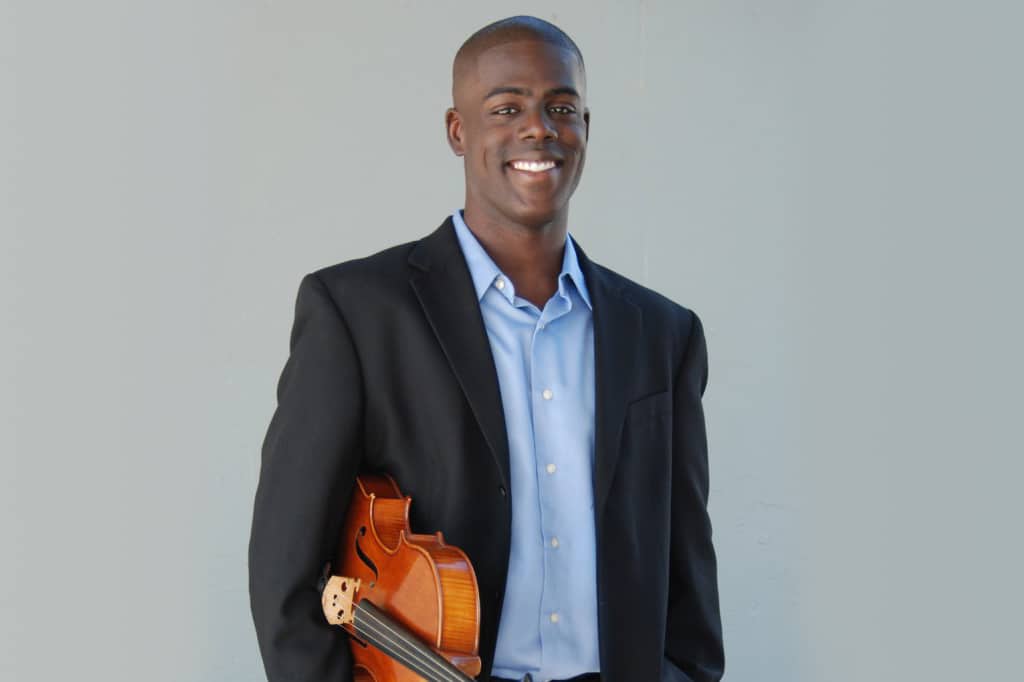 Featured Artist: Jerome Gordon — Playing with Usher and Pope Francis
BY PAKSY PLACKIS-CHENG
---
impactmania caught up with Jerome Gordon who just returned home from Los Angeles, where he worked on Finding Dory.
As a studio artist, Gordon has played on Frozen, Star Trek Into Darkness, Dawn of the Planet of the Apes, The Help, and Saving Mr. Banks. Gordon has also performed with the New World Symphony, Los Angeles Philharmonic, and the Santa Barbara Symphony. He has been part of Celine Dion's band since the show started in Las Vegas. We asked Jerome Gordon what the difference is playing with Usher and Pope Francis.
---
Why the viola?
In 6th grade, I was assigned in band to the saxophone. Before we actually started on the instrument, my schedule changed. I got put in strings. All the girls are picking violin. I looked at the bass, and I was thinking I am not carrying that thing back and forth from home to school.
Then the cello you have to play between your legs, and we're already making fun of those kids. And then there was the viola. It was kind of like, nobody really paid any attention to it; it was just sort of there. It was like the other thing. So I said, "Okay, I'll play that, sure." [Laughs]
When did you realize that this is it — I'm going to be a musician?
College. It wasn't until late. I didn't come from a family of musicians, so it was very foreign to be a professional musician. People sing in church and have [music] appreciation, but it wasn't like you were going to do this for a living.
I went to Northwestern; I got a degree in music business, as well. I had an internship with the Chicago Symphony when I was there. I went to Kellogg School of Management. It wasn't until after that I was gonna audition for graduate schools and I said: "Okay, I have to decide."
I auditioned for two schools, New England Conservatory and University of Southern California (USC). I went to USC.
There was a chance you would have been running an orchestra?
Possibly. Even when I went to New York String Academy in New York, which is an intensive, almost two-week program, I'd met with Frank Solomon, who's a big agent. Even that, going to a music academy and then finding the one entertainment lawyer… I guess I was just scared to commit.
I realized what that kind of world would be like. I realized I like performing. It was between Northwestern and Brown; I was probably doing something like entertainment law or entertainment management.
What is the difference between playing with Usher and with Pope Francis?
I think the biggest difference for me was the reception, the audience. When you play for a big pop artist — not to belittle it — it's sort of a superficial kind of fascination. They love the person, maybe their music touches them because it reminds them of this breakup and it helped them through this time, which is a real emotion.
When you're playing for the Pope, and people are screaming, running at full speed to see the Pope mobile… But, beneath that is this fundamental belief that the Pope represents. You can see that it runs deeper than just going to a concert and wanting to rip Usher's shirt off.
It was the biggest crowd I've ever played for; it was 25,000 people at the Catholic University of America. So I think the biggest difference is what the artist represents. I use that term artist loosely. What the person represents.
Was it emotional for you?
Yes. My family is Jamaican, and they're catholic. When I was living at home, I went to church every Sunday. I went to vacation bible school and catholic school. I was confirmed, first communion; I was christened as a kid. It reminded me of all of that. Also because this Pope is so different than every other Pope, I felt a connection that this person actually represents the people, and not just this institution.
Describe the concert.
The actual event was a couple hours, because there was also the canonization of Junípero Serra.
It was the first time a Pope had done that on American soil. There was also a Mass. We would play, and then the cantor would sing something. We would accompany the cantor, and then the Pope would speak, and then people would speak.
That's also what made it emotional: It was a mass, and it was interactive.
What did you learn from this whole experience?
That when you perform, it's bigger than you. I know that sounds naive in some ways, but it's because so many times when you go to a performance, you're applauding the musician, because of their masterful technique, or their artistry, which is fine and justified.
Something like this… is bigger than the music. It's even bigger than the Pope. And to be a part of that is so humbling. Because you've contributed to something so much greater, that impacts millions of people. I have friends I hadn't even talked to in years see it on CNN or online. It's so far-reaching. I think that's what I learned. When you perform, it's bigger than you.
What is it like to be in Celine Dion's band?
Completely different. When I started the show, I got mixed responses from friends, because the music world can be elitist. I think it's changing now, just because people realize they have to change if they want to survive.
If you have been doing a certain kind of playing for so long and then you switched to dancing onstage at The Colosseum and backing up Celine Dion while playing your viola, people are gonna look at you differently. My closest friends were supportive. When I first started, it was definitely out of my comfort zone.
At the audition, I remember they asked if I could sing and dance. I said, "No." All I did is play viola. Then in a show at one point, I did all three. For a year that was center stage, 20 feet above the stage on a platform, with lasers shooting out from under me and around me and I'm dancing playing viola. [Laughs.]
I think if there's a similarity — one of them — it is that this is also bigger than me. Celine is one of those artists that touch people in such a way, that it changes their lives. People will come up to me, and just because I am the violist, they'll say you have changed my life. There was this one woman who came up to the stage. Celine's really gracious — she'll entertain people — and put the mic in their faces. This woman was going into the military, and she said, "Celine, you've given me purpose, you've given me reason, your music has helped me through so much." And you just realize that it's bigger than you; it's bigger than Celine. I mean it's probably not on the same level as people's belief in Jesus. But still, for some people, it's deep.
It's definitely a lot of fun. Celine is very sincere with her interaction with the orchestra. When René [Angélil, Celine Dion's husband] passed, she said: "This is really hard. Everybody goes through it. It's sad, it's hard, but what am I gonna do? He would want me to go on. This is what he wants." And she says, "He's here with me onstage every night."
I like being a part of something like that, where you're appreciated, and you're not just background noise. That is why I've stayed in it so long, especially while I live in D.C. It's because of the kind of environment it is.
What did you do for the film A Late Quartet?
That was a teaching situation. I got recommended to coach Catherine Keener for her role, to get her well enough acquainted [with the viola] that she could pass for playing this Beethoven quartet, which is crazy because it's like one of the most difficult quartets.
I would go to her house, and normally a lesson is what? An hour? I could be there for five hours and show her how to hold the instrument and how to look for certain strokes. When you're walking and carrying an instrument, this is what you should do. When you put the viola to your shoulder, this is what it looks like. To pull a bow, this is what a full bow looks like.
What's the hardest thing to teach someone?
Probably spiccato. You can get someone to hold, which is a bouncing stroke of the bow, you can get someone to put the viola up on their shoulder and maybe not look like a natural player but passable. The new series on Amazon, Mozart in the Jungle: None of those people look natural to any of us that know music. To your average moviegoer, they look fine.
But with spiccato, it just looks so unnatural. It's hard to even teach an actual person who's learning how to play.
What would be a passion project?
One of my passion projects would be to perform in a chamber or symphony orchestra where they're soloing a viola player that I have great respect for. Nobuko Imai is one of them. I don't know if she's performing anymore. Geraldine Walther; I think she's in the Takács Quartet now.
Who is your impact maker — someone who left a professional imprint on your DNA?

I will say Timothy Blaha. Blaha is the teacher who started me on viola, in the 6th grade. If it weren't for him, I wouldn't be playing. More than that, he encouraged the people in my life to allow me to continue playing: my mom, other teachers, and teachers at festivals.

What piece of music would represent you?
I was fortunate enough to perform with Gustavo Dudamel and the LA Phil for a series of Brahms Symphony 4 concerts. They released an album from these live performances and it went on to win a Grammy. I remember the experience being surreal. The piece is one of my favorites and coupled with such an inspiration of a conductor made the whole thing extraordinary.